Odoo modules are designed to make work processes more productive.

Thanks to the close operation of the Odoo system and its modules, Odoo accounting automates and optimizes various accounting processes. For example, when creating an invoice from the customer order, the system automatically fills in the required fields with the information known to it, applying the necessary accounting records and taxes, and with a predefined e-mail template, allows you to send the invoice to the customer. The module also allows customers to create automatic reminders about invoice payments, automatically create journal entries and register bank payments.
A small insight into the functionality of the Odoo accounting module
invoices.
Recording and processing invoices is an important element of company accounting, which requires accurate and fast work. Odoo Accounting module allows you to quickly and easily create invoices based on purchases and sales, automatically linking the necessary data and creating a transaction.

Chart of Accounts
The module allows you to freely define accounts – specify the required number, account type, provide permissions, Takamol also offers a localized account plan for Egypt, which allows you to start accounting in accordance with the regulatory enactments of Egypt. The system also allows you to set default accounts for your product categories or even for each product separately, and will automatically apply them when creating invoices.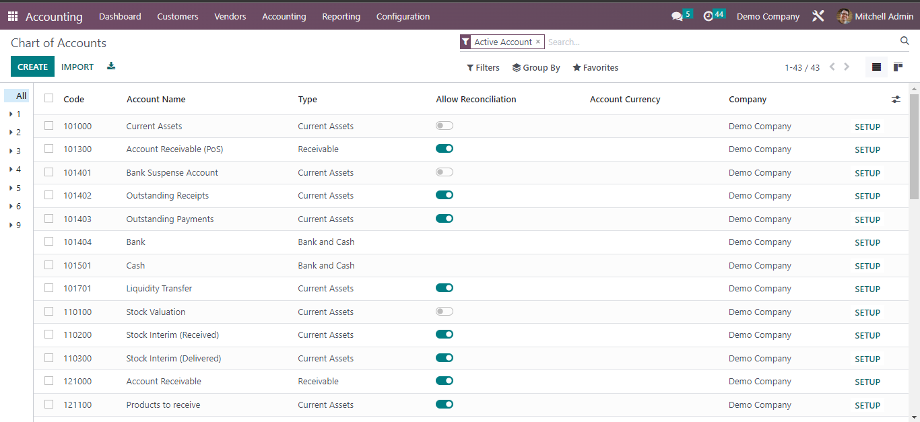 Journal Entries
Odoo's accounting module has a journal entry feature that helps businesses keep track of their financial transactions. Whith this feature, businesses can easily record sales, expenses and other transactions and generate reports to track their finances. the customizable templates make it easy to record different types of transactions, and the cloud-based platform enables businesses to access their financial data from anywhere. In short , the journal entry feature is a straightforward tool that simplifies accounting processes and helps businesses processes stay on top of their finances.




Reports
Accounting data is information that is important to the company manager. Odoo Accounting module provides real-time data availability, which will make the preparing and transfer of data to the manager as fast as possible. The accountant is able to prepare common reports out-of-the-box - including.